The "FarKoS" Pharmaceutical company is a modern manufacturer of innovation medicaments. We have production capacities for manufacturing of tablets, capsules, sachet-packages, liquid forms (sprays and flasks} which are located in Gostomel settl., Kiev oblast, Ukraine.
At the pharmaceutical enterprise the quality control department is available, which purpose is the arrangement of medicaments quality control fulfillment at all stages of production, including incoming control of raw materials, additional and packing materials, intermediate control during technological process...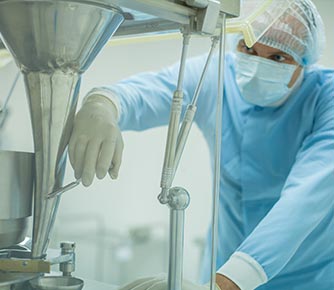 About the company
In order to achieve the successful results the "FarKoS" Pharmaceutical firm during a long time period follows the strategy of optimal integration of carefully orchestrated policy of joint investigations fulfillment with high efficiency of its own scientific and research works in development of new medicaments. Scientific and research conception of the company is based on fundamental investigations in field of biology, biochemistry and physiology, which permit the company to find its own place on pharmaceutical products market.
The company has priority in development of medicaments based on co-ordination compounds. Just the first such preparation, АТF-LONG®, became the evidence of successful formation and development of the company. The "FarKoS" produces chemical substance and production of ready medicinal form is transferred to the Borshchahivskiy chemical and pharmaceutical plant. By the results of 2005, the АТF-LONG® preparation was in TOP-100 group by sales volume of pharmaceutical preparations and was nominated for the "Preparation of 2005 year" rank by results of the "Panatseya" all-Ukrainian rating.